NoClogger 1.75
With NoClogger, 3D printing just got a whole lot easier. This essential tool effectively unclogs tubes, extruders, and nozzles, eliminating the need for time-consuming and frustrating methods like Cold Pulling and disassembling. Say goodbye to the hassle of constantly changing nozzles and hello to smooth and efficient 3D printing with NoClogger.
Shipping & Returns

Order will be shipped out from USA in 1-3 business days once being processed.
Care Instructions

The Noclogger is designed with longevity in mind, and that's why every unit comes equipped with a sharp blade for cleaning the tip and shaft. By regularly cleaning your Noclogger after use, you can ensure its optimal performance and prolong its lifespan.
Share
Say goodbye to a clogged 3D Printer!
Try NoClogger Risk-Free for 30 Days!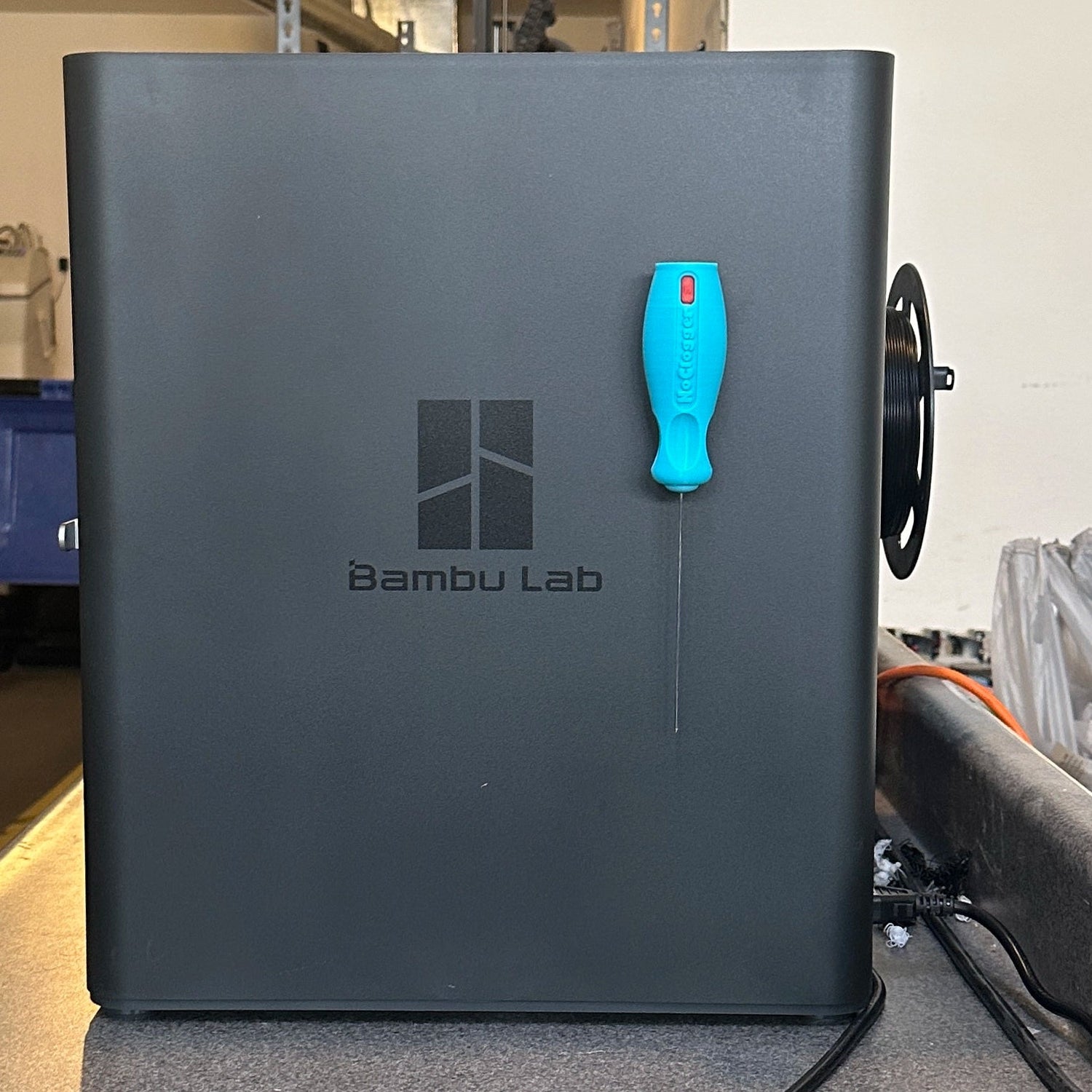 If you own a 3D printer, the NoClogger is an essential tool to have.Whether you're a seasoned 3D printing enthusiast or just starting out, this tool is a reliable partner in ensuring your printer consistently performs at its best.
Easy to Use

NoClogger is incredibly user-friendly, making unclogging your 3D printer a breeze. Simply heat up your nozzle, insert the NoClogger Pro, and let it work its magic.

Efficient Cleaning

The NoClogger features a precision tip that allows for easy access and removal of stubborn blockages, leaving your nozzle clean and ready for your next print.

Safe for Your Printer

The NoClogger is designed to be gentle on your printer's components, ensuring the longevity and performance of your 3D printer while effectively removing blockages.
Clog-Be Gone!
I received this item at the time when I was experiencing a nasty clog on my Bambu X1-C...from using different families of filament in the same hotend.
I pull off the hotend, cranked it up...inserted the NoClogger...and all of the nasty, stubborn filament just pooped out the nozzle.
Wear safety goggles (as I was) due to the NoClogger being so efficient, that the clog spit out, like being shot out a cannon. I've already recommended it to my printing friends.
Great tool to have
This has solved all blocking issues with my Prusa MK3 printer. I have tried an accupuncture needle, and a guitar string. This is fast and easy.
Great tool!
Grabbed this after seeing some folks raving about it in 3d printing FB groups and I love it! My filament changes go so much smoother and haven't had issues with clogs since using this tool!
To the POINT
The way these work is AMAZING. i just started 3d printing back in June of 2023. always getting annoyed with prints that finish in the middle of the night and then having to use the small needle that came with the print to clean it out the nozzle. that SUCKS!!! after seeing these online trying to figure out a better way to clean the nozzle and hot end on my Ender 3 S1 and Ender 3 S 1 Plus. i saw them and didnt even think twice. amazing product let me know if there is any new products from no clogger that will make my 3d print farm even more efficient. only using the 1.75mm needles now but might venture into the 2.85mm soon.
Hassle-Free Return and Exchanges

Need to make an exchange?

No problem! If your not happy with your purchase , please contact us within 30 days of receipt and we will process your refund immediately, no questions asked.